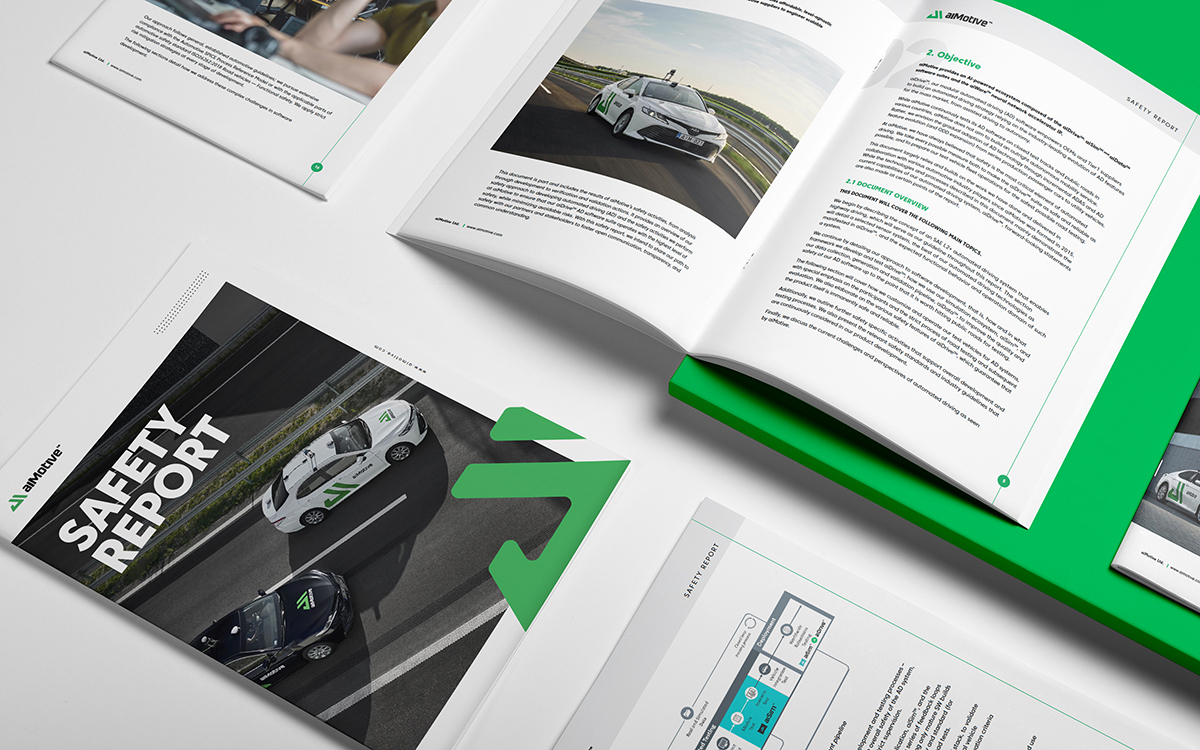 Written by Dénes Szarvas / Posted at 7/21/22
Ensuring safety – on every level
Safety is the most critical element of automated driving — check out our aiDrive safety report which was recently revised to provide a deeper understanding of the wide range of processes we use to ensure safe testing and operation of our solutions.
Safety in the automotive industry
As the automotive industry improved with technological advancements, traffic increased – and a byproduct of this development was that accidents from annoying minor fender-benders to more serious mishaps multiplied. Improving vehicle safety and preventing as many injuries and deaths as possible has been an important goal of the automotive industry from the beginning and it cannot be overstated how much car safety has improved over the years – but accidents can and do continue to occur.
Automated driving (AD) systems are the next step in the evolution of automotive technology. Assisted driving functionalities in vehicles, such as auto emergency braking (AEB) and emergency lane keeping are already helping to save lives and prevent injuries – and ADAS systems are aiming to deliver even greater safety benefits.
Bringing automated driving to all
We at aiMotive are working on catalyzing the mass-deployment of automated driving with our product portfolio. However, to facilitate this process, we also need to test and ensure the safety of our own ADAS and AD solutions. Reconciling cutting-edge features and innovation with functional safety is a huge challenge at the process level, one we are addressing in every step of our development.
Safety can only be guaranteed by a top-down development approach and a software development process starting at the vehicle level. This way we can systematically identify item hazards and mitigate risks with appropriate safety mechanisms.

From L2+ functions upwards, the safe state of the item means more advanced behavior, the system must make sure that it keeps the vehicle in a safe state and keeps it there until the driver regains control. For example, for an L2 system it is an acceptable safe state that the system no longer drives the car and lets the driver take control. However, for a higher-level system, shutting down is not acceptable, as the driver cannot be expected to take control immediately. Consider an L3 vehicle driving itself through a highway bend at 130 km/h: should the system suddenly fail to fulfill its function, the several seconds needed by the driver to regain situational awareness and resume driving may be way too late. Consequently, at a higher level of automation, the system must perform its function, at least to a certain degree, even in the presence of faults.
This must be considered from the functional safety concept level through redundant architectures to verification-validation. Airliners are designed in a way that pilots are not even told about the first failure; the plane can tolerate multiple ones until its next scheduled service, and even with a major fault, the plane can still safely fly to its home base, possibly in multiple legs. Similarly, in highly automated driving, the safety concept must account for the presence of errors and may only resort to a safe emergency stop in rare, unexpected circumstances. All error conditions with a reasonable probability should instead be handled in a graceful way, such as by limping to the nearest open gas station. This is only achievable if the solution is built on a computing platform with a redundant architecture.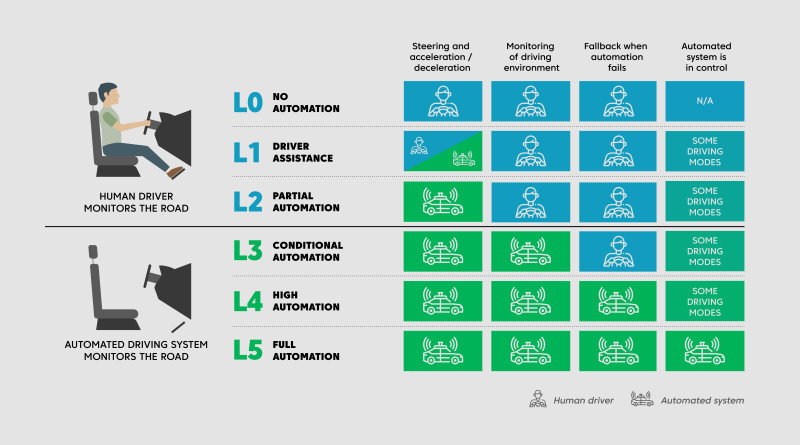 Developing according to automotive standards
We ensure the functional safety of our solutions by following state-of-the-art practices throughout every step of the safety life cycle, all the way from the concept level to verification and validation. The ISO 26262 automotive functional safety standard is the reference which our efforts are measured to. In our philosophy, the goal of compliance is to ensure that no one is being harmed when using or encountering our technologies, not merely to fulfil the strict supplier selection requirements of our automotive OEM and Tier 1 customers. To this end, we are constantly improving our processes in this spirit.
But it is one thing to comply with standards and to have the safety approach and activities internally.
We have now updated our publicly available safety report for our modular automated driving software, aiDrive™ which offers solutions from assisted driving to higher levels of automation with industry-leading features. We have revised the document based on the progress we have made in our SW development and testing processes, and reflected the latest achievements in aiDrive related to, for example, our multi-sensor model-space network (MS²N).
We have always believed that safety is the most critical element of automated driving and we wanted to give the public deeper insight so that anyone could learn about the all-encompassing processes we use to ensure software safety.
We know that the users must feel comfortable and safe when using our solutions. This is one of the many reasons why our system is designed in a structured and safe way, considering all the adverse and unpredictable conditions that can occur during operation.
We also know that all traffic participants should feel comfortable and safe when they encounter an automated driving system during testing in public traffic. That is why our systems are tested by well-trained personnel under strictly supervised processes.
Furthermore, we understand that an automated driving company's expertise and safety culture is crucial. This document shows that we comprehend the challenges and risks of our industry, and we are taking every development and operational step based on reasonable plans and according to the industry's standards.
Our aiDrive safety report is an important commitment for us on the road to bring automated driving to all!