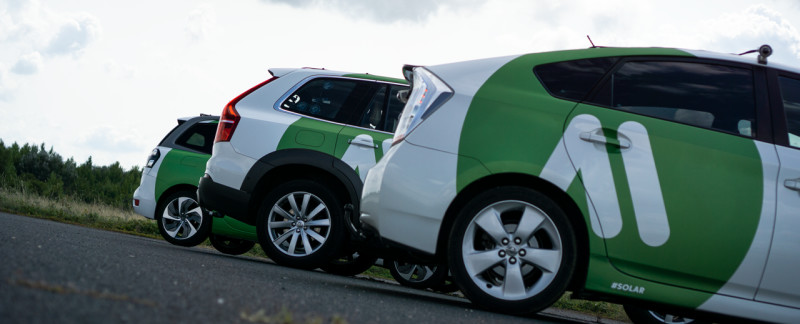 Written by Gergely Debreczeni / Posted at 1/31/19
It's all about collaboration
As Laszlo Kishonti, our CEO detailed in his previous blog the future of automated driving lies in collaboration. However, this has its different forms and levels. Our goal with the creation of aiDrive2, which we announced at CES, was to create a software platform which facilitated the different ways we work with our partners. Now, what does this actually mean?
The core of our approach to collaboration is the flexibility to adapt to the different requirements of our partners. Often, a major limitation to effective collaboration is the development overhead associated with changing an existing system to comply with the requirements of new software, sensor or hardware requirements. Overhead of this form is in some cases minor, in other cases, it requires a large workforce, many manhours or enormous investment to overcome. To minimize these risks aiDrive2 is sensor setup, processing platform and operating system agnostic, meaning that it can run on the platforms and systems our partners are already using.
Getting ahead of these development overheads is also why we support open standardization efforts, such as those of The Khronos Group. The NNEF™ standard, for example, has an everyday effect on our work with aiDrive and aiWare, as discussed by Viktor Gyenes in this blog post. We also relied on the Vulkan API to achieve platform agnosticism and the most effective task scheduling in aiSim2. We believe that open standards are a key route to building regulatory and consumer trust in automated driving technology. Actually, the deployment of more advanced automated systems is unimaginable without some form of standardized testing procedures. Adhering to new standards as they become available is also vital not only to ease cooperation with our partners but ensure that aiDrive is ready for deployment in production vehicles.
Another factor of AImotive's flexibility is our modular approach to designing software. Both aiDrive2 and aiSim2 are built up of smaller modules connected by simple interfaces. Each module is responsible for a certain task, for example, lane detection or behavior prediction. In practice, this means our partners can choose which elements of the codebase they wish to implement in their systems. There is a wide range of possibilities, relying on aiDrive to implement the whole automated driving solution, or integrating only selected modules or even a single module into an existing solution. aiDrive2 is a toolbox, ideally one that can be used to patch the gaps in the expertise of our partners.
In fact, modularity is not optional, it is a must! Developing and validating a single monolithic black-box solution requires exponentially more effort, testing and comes with a huge cost. Meanwhile, developing a highly modular system with small building blocks that have well-defined functionalities, and interact with each other in mathematically formalized and restricted ways simplifies the functional and safety validation of the overall system. This results in increased transparency, saving time and cost. Such an approach also allows one to be adaptable and integrate new approaches in the underlying technology into the full solution efficiently. As a result, various AI algorithms, compute platforms, new sensor technologies, rapidly changing communication and infrastructure services alongside mapping technologies can be properly utilized. Updating a monolithic, rigid black box solution at the same pace would be almost impossible.
AImotive has always developed its three branches of technology to increase its understanding of the software, testing and hardware demands of self-driving. As a result, we are uniquely positioned to support our partners in achieving their own development goals. However, collaboration is important to us not only because of the technological challenges it can solve, but because it will lead to safer automated driving all-round.