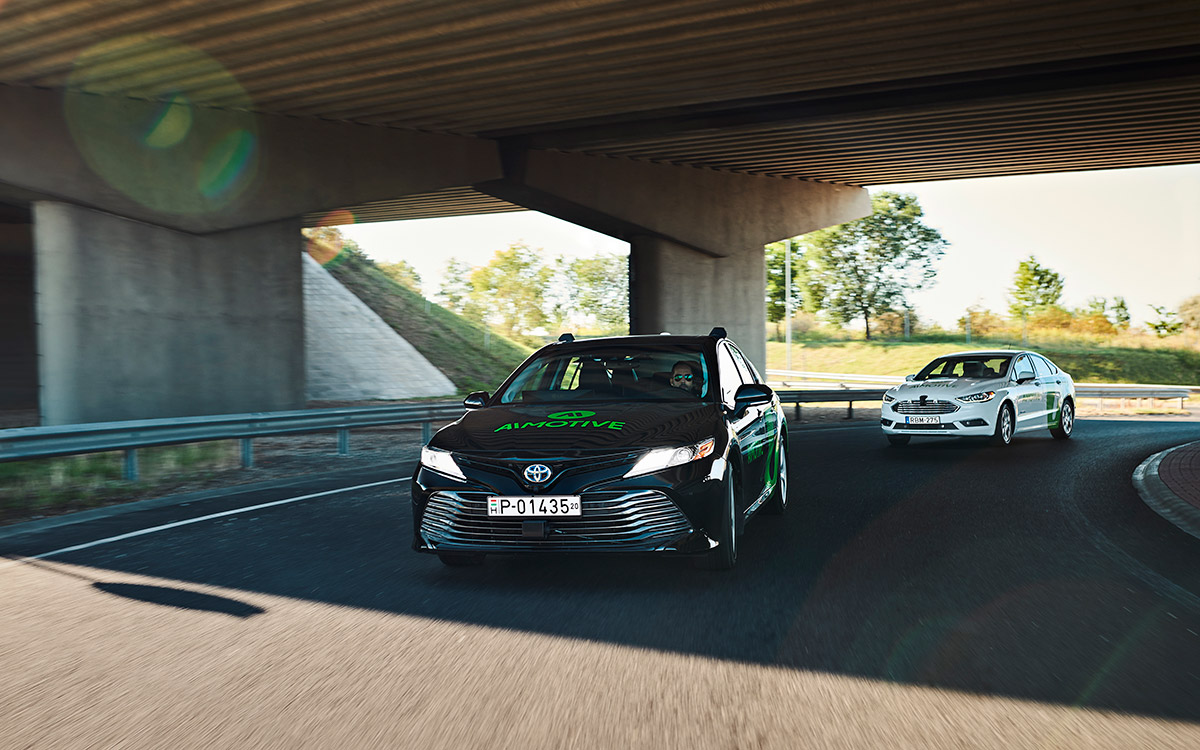 Written by AImotive / Posted at 6/3/21
Introducing our new CCO – Q&A with Arnaud Lagandré
Joining AImotive with decades of automotive experience, our new Chief Commercial Officer has been at the heart of the automotive industries transition towards ever-higher levels of automation. Arnaud Lagandré brings a solution-focused attitude and in-depth cultural knowledge to AImotive. However, it's best to let people speak for themselves. We sat down with Arnaud to learn more about him and his motivation behind joining AImotive.
You spent 21 years with Continental and part of these two decades leading ADAS teams – can you tell us the most important milestones of your career?
Arnaud Lagandré: To summarize my career in a nutshell, I started at Johnson Controls as a Quality Engineer in Project Teams, then transferred to Manufacturing (producing headliners). After four years at JCI, I joined Continental's Tire Division, where I occupied various positions during my 15-year tenure. I got the opportunity to transfer to the ADAS Business Unit in 2015 and have been working there for the past six years.
I would define the important milestones of my career as the ones where I got the opportunity to learn the most. As working is a continuous learning process, I'll try to limit myself to the two most relevant.
If I take it chronologically, I would say the first one was when Continental trusted me to develop the Tire business with Asian OEMs. I learned a lot working with Japanese Car Manufacturers and their thorough approach to problem resolution and the sustainability of countermeasures.  With my background in Quality, that could only resonate positively. At the time, I was also involved in two Joint Ventures, which helped me build a broader understanding of successful partnerships, and how companies with different goals can work together towards a common purpose. This gave me some good experience of the paths to success and its pitfalls, which I could reuse in the next steps of my career. But beyond this, I have been able to apply these learnings in my management style, leading large intercultural teams with members from various backgrounds and cultures, with different values, to get together, then work and fight together as a team to achieve challenging goals. 
The second key milestone would be my move from Tires to ADAS, taking over a small team in Santa Barbara, California, to develop a solid-state LiDAR. This was an awesome experience (not only because of the location†), where I learned about the design and development of very complex systems, including the Software/Algorithm part of the product, and how it would be integrated into the vehicle architecture to make an L3-system. Looking back, I find developing a smart cutting-edge technology sensor was very likely the best way of entering the complex world of ADAS and AD. 
Growing the segment also gave me an excellent opportunity to build a real team rather than a collection of talents. In today's teams of ultra-talented PhD's and Engineers, teams should be recruited for their ability to work together as much as their deep knowledge of their particular field of expertise. The culture of the organization was set as a top priority.
Last, this 4-year experience in California gave me direct exposure to multiple start-ups in Silicon Valley, but I will come to this a bit later. 
Software is the future of the automotive industry. How do you see new entrants or traditional manufacturers coming out victorious from this transition?
A. L.: The industry has realized that it is very unlikely a single player will be able to launch a safe and reliable Autonomous Driving vehicle entirely on their own. The variety of technical fields that need to be involved makes it very challenging to keep up with the required expertise. The time for partnerships, the close collaborations of experts across the board has come. The main reason why the standard Customer-Supplier relationship doesn't work anymore is that the complexity of the interfaces between the various software components and the functional safety requirements go way beyond traditional mechanical assemblies.
Both Car Manufacturers and traditional Tier 1s come from the Hardware world. They have invested massively into software competencies, but the DNA of these organizations remains massively influenced by their (successful) histories. Transformation is underway, but it takes time. Joining forces with partners from the SW world helps them reach a double goal: get the performance they expect from their products faster and support a mindset shift through the exposure to the diversity of enlarged project teams. On the same token, the new entrants can learn from the very demanding requirements of the automobile industry. You cannot ignore multiple decades of experience developing, building, selling and maintaining components, systems, and cars. Constant collaboration between all players is the key factor to success, and all can benefit from it.
We are sure there were many career opportunities for you with an automotive background like this. Why did you choose AImotive?
A. L.: I have worked 25 years in large corporations, and I understand how to navigate them. Nevertheless, in the last couple of years, I have been exposed to numerous "start-ups" (not only in California, but also Europe and Israel) where I was amazed by the speed, the can-do attitude, and the solution-oriented mindset that get them to move faster than some traditional players. I felt it matched my personality, the way I want to run things, focusing on getting them done.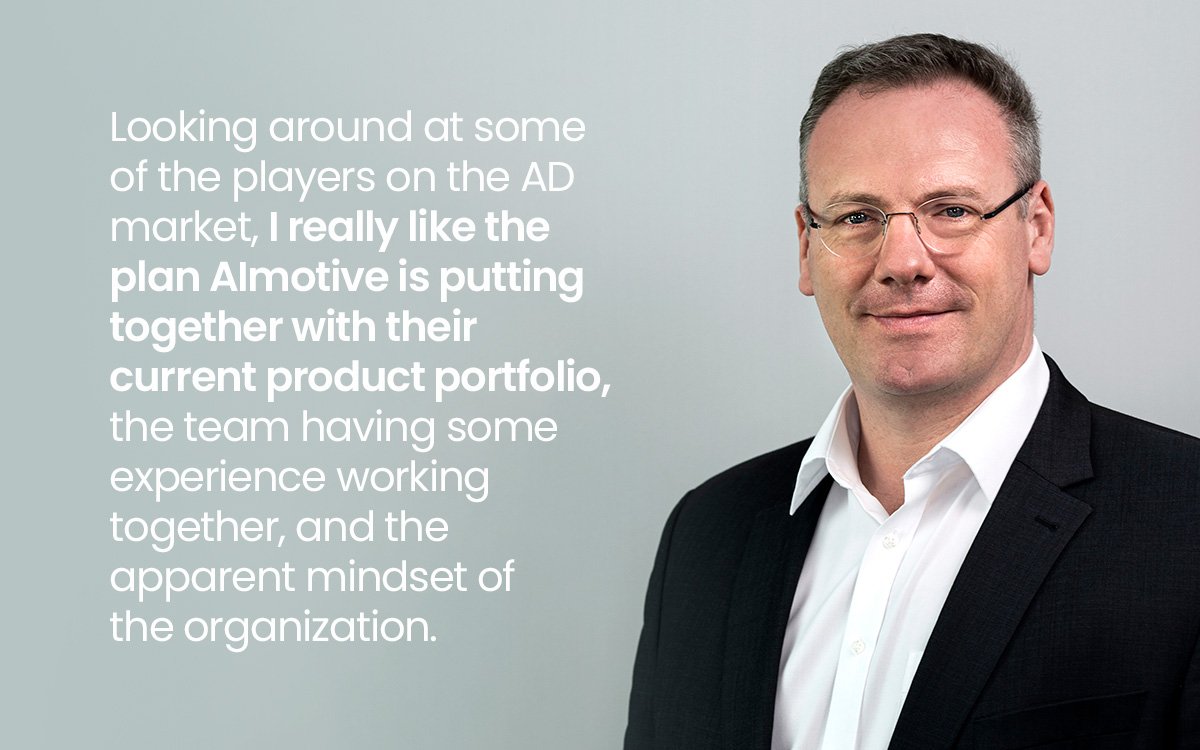 I feel the product portfolio matches an identified need in the industry to close a gap in both development speed and the reliability of the perception algorithms in corner cases. I see AImotive ideally positioned to support market demands.
You recently visited our HQ in Budapest. What were your first impressions?
A. L.: I have to admit this was a decisive moment in my thought process. A couple of things struck me when I visited the offices. First of all, I really enjoyed the company's culture, which I could clearly capture in the multiple interactions with all the team members I talked to that day. Transparent, open, curious, straight to the point, listening to questions and feedback. Everybody treated me as if I was already part of the team, and it felt great. There is a strong sense of trust, willingness to exchange and learn from each other, which fits my own value set.
Unfortunately, due to the current COVID restrictions, the office was far from full, but the energy and commitment from the people I met were convincing. I look forward to spending more time with the teams, discussing further technical details, elaborating future roadmaps and strategies to support the company's growth, and the implementation of safe solutions for Autonomous Driving onto the market.
You are not only changing jobs but also changing residence. How come you are moving to Budapest with your family?
A. L.: Over the last 16 months of the Covid pandemic, we all learned that there are effective alternatives to the traditional Work-from-Office scheme; working remotely can be very efficient. Nevertheless, we also learned that it becomes increasingly complicated to develop the sense of a team, the feeling you belong, when people never sit together. I love social interactions, coffee machine chitchats, swinging by someone's desk to discuss an idea. It's how you build connections and collaboration with the people, trust and commitment, and also how you generate innovation.
Joining a new team, it seems important to me to be able to build up the relationship with all employees, properly understand how the company operates, and how I could contribute to the development and future successes. I do not see any better alternative to reaching these goals than being in the office as often as possible. Moving to Budapest became an obvious decision.
My family and I are not afraid of moving. We lived in Germany for five years, in Michigan for two years, and in California for four years. We love the exposure to different cultures, and I feel we benefit from it. My kids are bilingual (English - French), and have been exposed to German and Spanish languages. We will add Hungarian to the list now.