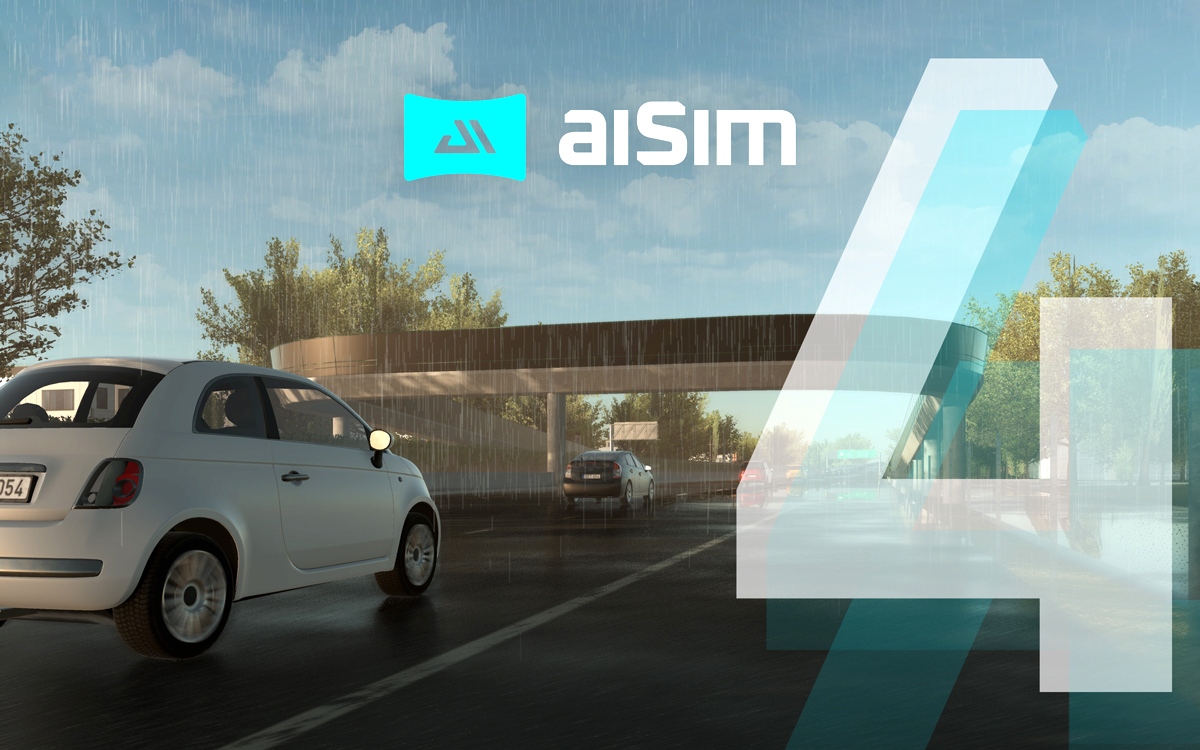 Written by aiMotive / Posted at 1/5/23
Introducing aiSim 4 – the ultimate tool for ADAS/AD validation
The most scalable, high-fidelity sensor- and environment simulation for real-time testing
Validating an automated driving (AD) software's proper operation using traditional testing methods would take years, if not decades. aiSim 4 provides an ideal testing environment to investigate and validate how AD systems perform in high-mileage tests and adverse driving scenarios, focusing on virtual, high-fidelity sensor data.
Las Vegas, Nevada and Budapest, Hungary, 5th January 2023 – aiMotive, one of the world's leading suppliers of scalable and modular automated driving technologies, announced the latest generation of its aiSim end-to-end simulator at CES 2023. aiSim 4 packs physics-based sensors, environment & weather simulation, synthetic data generation, a new, cloud-based UI and open SDKs and provides an extensive set of 3D assets.
Upgraded capabilities for aiSim 4 include:
Enhanced deterministic rendering engine: extended feature list enables the creation of highly adverse environments for perception systems, including snowstorms, heavy rain, fog, and sunshine, using proprietary ray-tracing and rasterization technologies.

Physics-based sensor models: an extensive library of validated sensor modalities, including cameras, lidars, radars, and ultrasonic sensors. Various sensor degradations can be simulated to test the robustness of the ADAS/AD functions. The architecture and superior efficiency of the aiSim engine enables the real-time computation of a physics-based complex sensor system, unlocking not only advanced HiL (Hardware-in-the-Loop) use cases but also reducing the SiL (Software-in-the-Loop) computing requirements for End-to-end testing.

High-fidelity synthetic data generation at scale to train neural-network-based perception systems: with domain randomization, coverage of various ODDs (highway, urban, parking scenarios), statistics, and visual feedback to analyze the synthetic dataset.

Web-native UI: ensuring seamless customer experience and deployment as well as eliminating installation requirements in the user environment.

Comprehensive SDK: a handful of APIs, including Sensor and Scenario interfaces, to tailor aiSim to the users' needs and support a seamless integration in customer toolchains

Mature 3D asset pipeline and library: an extensive set of 3D assets and related tools to set up a diverse, high-fidelity 3D environment, including vehicle models, vulnerable road users, maps, 3D assets, and scenarios.

aiSim 4 continues to deliver the unique, deterministic rendering engine-based simulation toolchain with a successfully extended ISO 26262 certification to speed up the development process of ADAS & AD software development.
"We are very proud of our team. Since the launch of aiSim 3, we have not only extended our global customer base but also developed exciting new features for aiSim 4, making it a unique, end-to-end tool in the automotive simulation market," – said Szabolcs Janky, Product Director of aiSim. "If you're looking for a deterministic, end-to-end validation and verification toolchain covering the perception testing, there are not many options besides aiSim – and that's largely thanks to the valuable feedback from our lead customers, our highly motivated team and the experience we've built up over the past seven years in multiple domains of the automated driving."
aiSim 4 is already used by key customers and is now available to everyone – for inquiries, click here.
For more details about aiSim 4, click here.