Written by László Kishonti / Posted at 3/11/21
Automated electric vehicles will rule our roads by 2030
Is the future electric, self-driving or both? The answer is complex and influenced just as much by long-term industry trends, regulation and consumer demands, as how quickly the technology develops. Let's take a closer look.

There are many challenges in developing self-driving cars. For years, the industry was defined by lone wolves – everyone going at it alone. However, most players have now come to the realization that they can't solve self-driving alone. As a result, the number of partnerships and collaborations has skyrocketed over the last couple of years.

It is obvious that in some point in the future self-driving cars will become ubiquitous. Similarly, electric cars will take the baton from their traditional fossil fuel counterparts. Unsurprisingly, both trends are being accelerated by the pioneering work of Tesla.

According to McKinsey & IHS, the global automotive software and E/E market will climb from $240 billion in 2020 to $470 billion by 2030. These are astronomical figures – and highlight how disruptive, new entrants can reshape the whole industry and take the places of traditional OEMs if manufacturers do not react in time.

Naturally, the big carmakers have a few tricks up their sleeves as well. For one, they can draw on vast experience in design and ensuring production quality. Second, they have decade-old customer relationships to build on. While a lot of their production remains in-house, they have become experts in integration, working with Tier-1s and Tier-2s to bring the best value to their customers. However, they may have missed a beat. Internal combustion engines and their traditional, slower ways of working may be ill-suited to the bumpy road ahead.

The new standard: electric vehicles
Just look at Tesla's skyrocketing market value – the company is now worth more than the 10 biggest traditional OEMs – combined. What Tesla lacks in production quantity and quality (look at the J. D. Power reliability ratings) it makes up for in software development and integration. Many of these problems simply stem from their limited experience in manufacturing vehicles at scale.

Tesla is also heavily invested in electric drive, which not only offers a new driving experience but simplifies the vehicle drivetrain. An electric engine and battery are more accessible to anyone entering the automotive industry than the years of experience needed to build an efficient combustion, or especially, hybrid engine.

The accessibility of these new drive systems opens the industry to new companies, and these new entrants can use their different approach to manufacturing to forge an advantage. Instead of setting up expensive production lines themselves, they can work with respected and experienced automotive engineering hubs. Look at Sony, which is building the VISION-S with Magna-Steyr, the internationally respected automotive supplier engineering competence center. Magna-Steyr already builds cars for Daimler, BMW, and Jaguar, so they have all the knowledge needed to manufacture high-end vehicles. As a result, they can overcome the production limitations that have beset Tesla over the last years.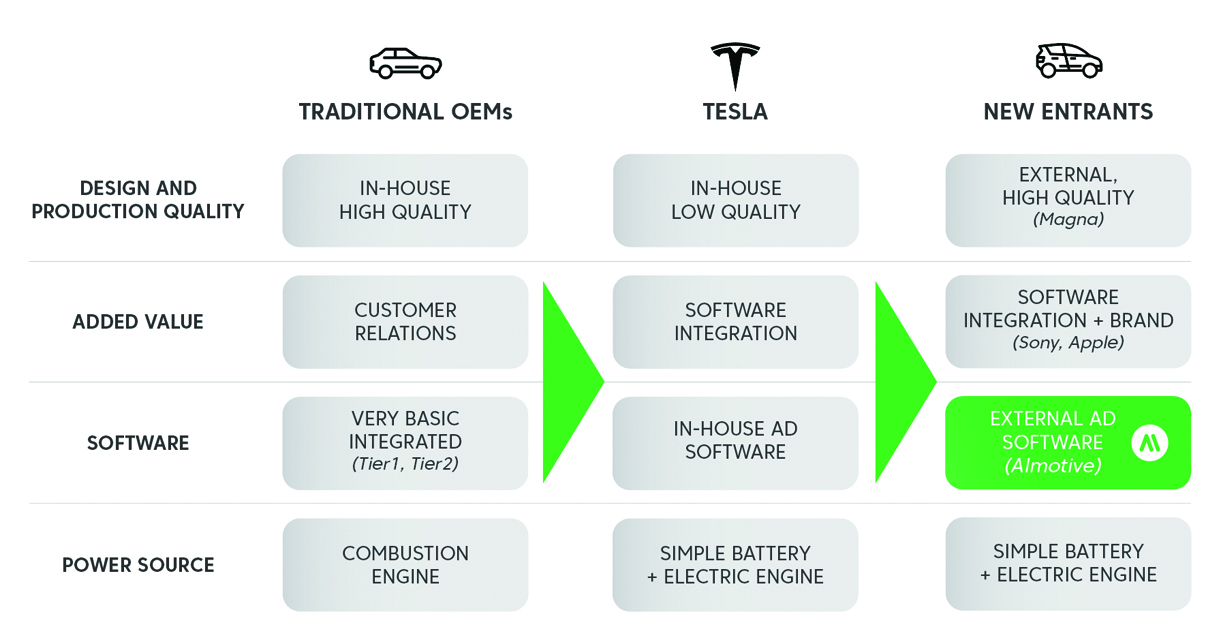 Software is the new king of the automotive industry but I'm even more certain that electric vehicles will dominate the market in a few years' time. For new entrants, like Lucid or Sony, a disruptive player, like aiMotive, with a background in software development mindset can be easier to work with than a traditional Tier 1 or Tier 2 – because we speak the same language. Our collaboration with Sony confirms this, as I can say that we work seamlessly with one of the largest consumers and entertainment electronics companies in the world. We have felt that we are on the same page from day one. Unofficial reports of Apple's car project fit nicely into the same picture.

How will the cars of the future be better?
For now, the future is increasingly advanced automation. Level 2 automated passenger vehicles will reach an inflection point by 2030. By then, most cars on the road will have some form of automated driving capabilities. These vehicles will be capable of driving themselves in several situations but still require human supervision most of the time, or even the driver to take over in some cases.

Advanced and sufficiently safe L2 systems have the potential to fundamentally redefine the driving experience. However, to achieve this, they must overcome the limitations of previous generations, which have undermined the trust of drivers through unpredictable performance. I believe that our collaborative approach and continuous development – continuous deployment approach, are key factors driving the industry towards this goal.

New entrants to the automotive industry – with years of experience in consumer electronics and entertainment – will augment these automated systems with new infotainment solutions. Completely changing the experience of owning or travelling in a car.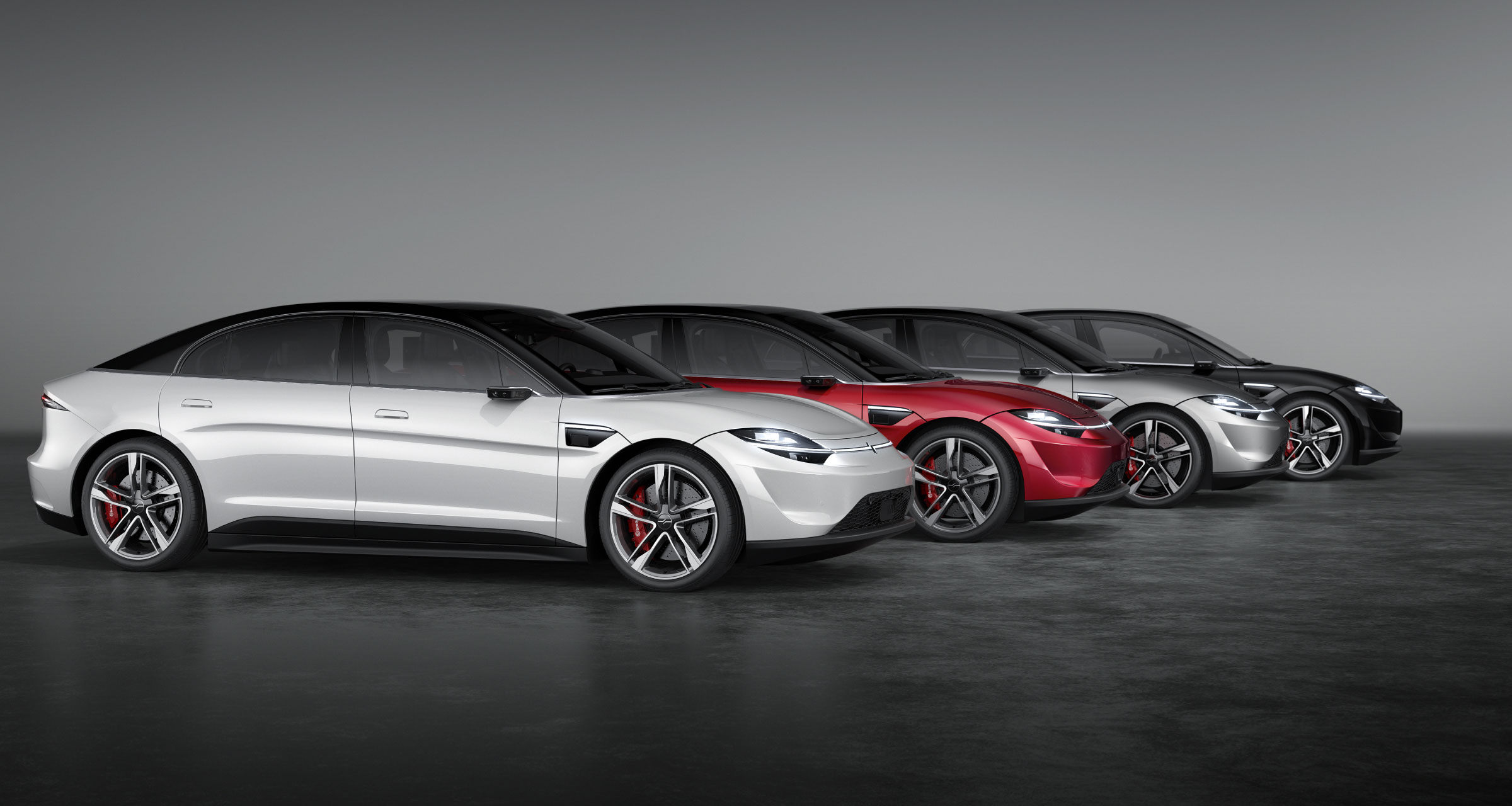 An influx of new players is being drawn to the automotive industry by these disruptive trends. However, the two technologies must go hand in hand. Traditional OEMs have been playing catch-up for years and technology companies have a massive opportunity to capitalize on their fast-paced development mindsets to revolutionize the automotive experience.

Spanning power, automation and infotainment stunning changes are coming to passenger cars. And while the close future of automated driving is not full autonomy yet, functions making driving hassle-free and safer are closer than you might think.