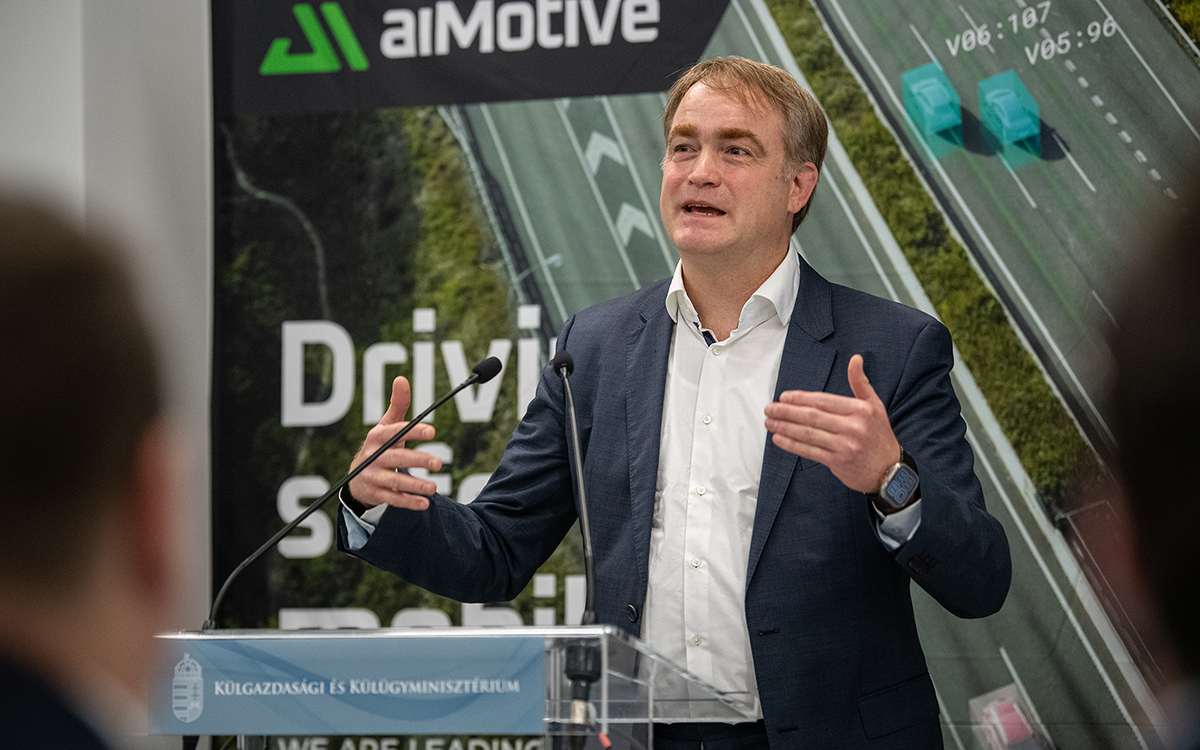 Written by aiMotive / Posted at 10/30/23
Extending our R&D center in the heart of Budapest with HIPA's support
Driving R&D Excellence and Industry Innovation

Budapest, Hungary — 30th of October 2023 — aiMotive, a pioneering force in automated driving technology, has secured support from the Hungarian Investment Promotion Agency (HIPA), signifying a milestone in pursuing R&D excellence.

In a public press event that took place on October 30, Levente Magyar, Hungarian Deputy Minister of Foreign Affairs and Trade, dr. Csaba Gór, constituency chairman, and Heiko Schilling, Head of Software and AI Engineering of Stellantis, underscored the pivotal role of aiMotive in the global automotive landscape and Hungary's commitment to fostering innovation in the tech sector.

Stellantis, a global automaker and mobility provider, acquired aiMotive in December 2022 – the Hungarian company maintained its operational independence to preserve its autonomy and startup mindset of rapid innovation.

aiMotive stands at the forefront of automotive innovation, contributing its expertise to Stellantis on its transformative journey outlined in the Dare Forward 2030 long-term strategic plan. This ambitious blueprint, introduced in March 2022, charts the course focused on providing cutting-edge freedom of mobility for all with ambitious goals for providing outstanding customer experience through software development. aiMotive's software solutions are set to play a vital role in achieving these objectives, as these innovative solutions are poised to find their way into several million vehicles.

The support from HIPA acknowledges the importance of Hungary as a hub for cutting-edge R&D and serves as a testament to the Hungarian government's commitment to nurturing innovation and technological advancement in the automotive industry. It reflects the conducive environment that Budapest offers for successful R&D centers.

Established in 2015, aiMotive has witnessed rapid expansion, with a workforce of nearly 250 professionals. The new support from HIPA is set to create at least 40 new R&D positions. This development reaffirms the company's commitment to nurturing talent and pushing the boundaries of innovation.

aiMotive's partnership with HIPA underscores the shared vision of the Hungarian government and global industry leaders. Together, they emphasize Hungary's status as a premier destination for pioneering R&D in the technology sector.