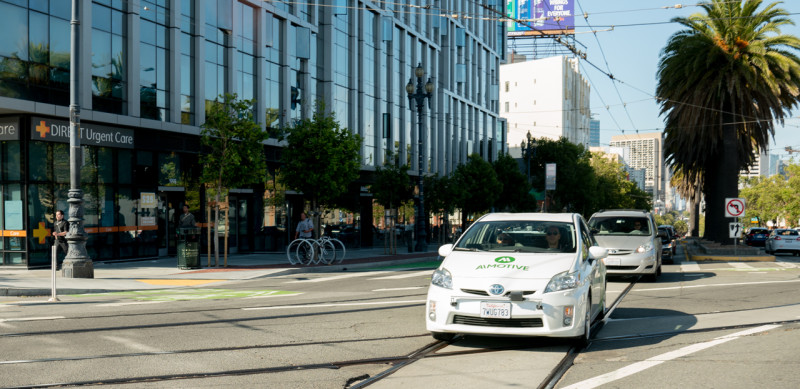 Written by AImotive Press Release / Posted at 5/2/19
Quanta and AImotive partner to develop processing platforms for automated driving
AImotive to deploy platform agnostic aiDrive self-driving software stack on Quanta's platform and integrate into test vehicles.
The companies will cooperate to build state-of-the-art processing platforms scalable from ADAS to autonomous systems.
aiDrive running on Quanta's high-performance V32 system will debut in the US at the Embedded Vision Summit
Budapest, Hungary and Taoyuan, Taiwan, May 2, 2019 – The self-driving software provider, AImotive and the respected ODM Quanta Computer Inc. have announced a collaboration that will see AImotive deploy Quanta's new line of next-generation automotive-grade processing platforms in its test vehicles. Highly automated driving requires that hardware and software companies collaborate to create the most efficient and robust platforms to fulfill the various needs of OEMs.
aiDrive is developed to be a platform agnostic and modular self-driving software stack that AImotive's partners can rely on to deploy automated driving functionalities or integrate into their ADAS solutions. Working with key partners in the automotive industry AImotive recently announced a new focus on deploying aiDrive on automotive hardware platforms.
Quanta Computer Inc. utilizes various third-party development kits, such as Intel's Xeon or Nvidia's Xavier and Pegasus to offer hardware solutions for the different levels of autonomous driving to allow customers to verify their concepts and algorithms in the Autonomous Driving field.
"We respect Quanta's automotive experience and welcome its scalable and modular line of automotive products. As we are developing a modular and scalable software it is vital that different processing platforms are available for various use cases, and for AImotive to provide solutions that are optimized for the automotive platforms of the future;" said Péter Tamás Kovács, Chief Product Officer, AImotive.
"Increasing automation is coming to the automotive industry. We are excited to gain a better understanding of the processing requirements of different ADAS and highly automated systems through our cooperation with AImotive, said Terrisa Chung, Vice President at Quanta Computer Inc.
The collaboration emphasizes the importance of scalability for self-driving technologies. The partnership will see Quanta and AImotive trialling different levels of automation on different hardware setups to ensure both companies provide robust solutions for an increasingly automated future.
aiDrive debuted on the high-performance Quanta V32 system at Embedded World in Nuremberg, February 2019. The companies will also display a joint demo in the US at the Embedded Vision Summit in Santa Clara, May 21–22.